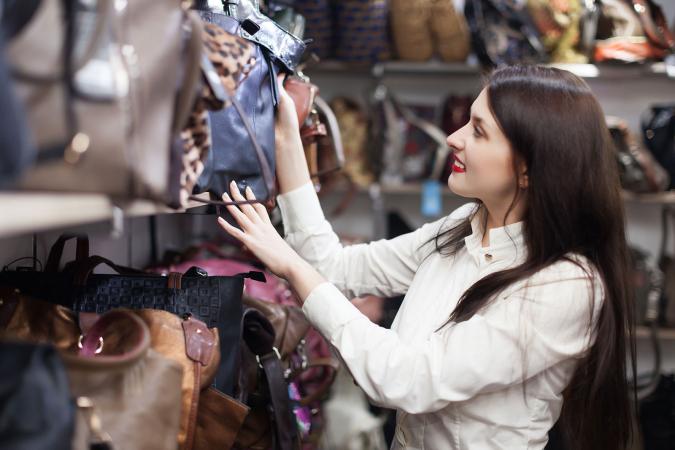 Do you ever want to treat yourself to a glamorous designer handbag - not a market stall knock off - but you simply can't justify the price tag? What you may need is a trip to your nearest handbag outlet store. These can be found up and down the country, and all stock a variety of discounted designer label handbags - often at up to 60 percent off the recommended retail price.
Handbag Lines Available
A few of the handbag designers available at outlet stores include (but are not limited to):
Michael Kors
Gucci
ALDO
Prada
Burberry
Banana Republic
Marc Jacobs
Kate Spade
Popular Brand-Specific Outlets
One way you can save that is especially convenient when you are looking for a bag from a specific designer brand is to visit that brand's outlet store. While not every designer has an outlet, many of them do. Visit the website of your favorite designer brand to check if they have outlet locations. A few of the most popular include the following stores.
Coach Outlets
Coach has a number of physical outlet stores, as well as a members only online outlet. Coach Outlets carry two kinds of discounted bags. Clearance Coach bags from Coach stores, and handbags made specifically for outlet stores. Both kinds are created with the high quality materials and finished that the brand is known for, but the ones designed for the outlet will have fewer special details. Therefore, the stock coming directly from the Coach stores are the nicer and more expensive looking handbags. Feel free to ask in store sales assistants which is which if you're unsure.
Coach outlets can be found across the USA - visit their Outlet Store Locator to find a location nearest to you.
The Brighton Outlet
Brighton Outlets stock last season merchandise, samples, factory imperfections, and excess inventory all at a discounted price. New merchandise arrives every 1st of the month, and will be 30 percent off the price tag. Each month after that, the item will be reduced by a further 10 percent. If you know a particular style is sought after - don't wait to make your purchase - snap it up before it's gone! When navigating around the stores, helpful colorcoded tags and signs will indicate how much an item is reduced by.
On the third Friday of each month, a three-day shopping extravaganza is hosted - featuring special factory clearance prices (dates can be found on the website). You can find Brighton outlets in California, Nevada, Texas, Florida and Virginia - see their website for full addresses and detailed information.
Giorgio Armani Outlet
Giorgio Armani currently has 12 outlet stores across the USA - you can find your nearest one by checking Outlet Bound for locations. The brand has made it clear that they only sell left over stock from their main stores at all outlet stores, compared to certain brands which sell stock that has been specifically made for outlet stores. You can expect authentic handbags from past collections, with savings of up to 60 percent.
Michael Kors Outlets
You can shop from a range of discounted wallets, clutch bags, mini bags, shoulder bags, and totes at Michael Kors's outlet stores. However, Kors is one of the notorious designer brands who manufactures specific products, at a lower cost, for its outlet stores. Purses and other merchandise at the outlets are still Michael Kors products, but the quality may be lower.
There are a few ways you can spot if you are looking an item made for the outlet or a past season MK bag from a main store. The metal MK logo on the front is usually of a cheaper quality, the interior pockets may not be leather trimmed like the main store bags are, and the general quality of the outer and lining material is not as high. There are also handbags to be found in MK outlet stores from past season stock at up to 60 percent off the recommended retail price.
You can find your nearest Michael Kors outlet by visiting the Store Locator page of their website.
Gucci
Gucci has outlet stores in nine locations throughout the US, many with locations within easy driving distance of major cities such as Chicago and New York. Consumers can expect to pay about 30 to 50 percent less than retail prices for Gucci handbags or other merchandise at their outlets. According to The Washington Post, Gucci's outlet stores sell merchandise from past seasons, not items specifically made for the store.
You can browse the locations list on the Gucci website to find all the available outlets, or check Mall Seeker for addresses.
Outlets With Multiple Designer Brands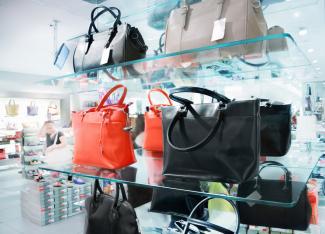 If you aren't searching for a purse or wallet from a specific designer, you may want to browse an outlet that carries multiple designer brands. You'll find a variety of style and price options when you choose this route.
Bagriculture
Bagriculture has four store locations dotted around New York - Soho, Forest Hills, Staten Island, and Midtown. They stock a mixture of pre-owned and new handbags from brands including Chanel, Louis Vuitton, Hermes, Prada, and Gucci. They cater to a wide price range with bags starting at under $250, all the way up to over $1000. They also guarantee authenticity when purchasing any of their handbags.
Burke's Outlet
For fashion-forward women looking for lower-end designers, Burke's Outlet can be a good choice. It carries brands like Nine West, Jessica Simpson, Kenneth Cole Reaction, and London Fog. You can expect to pay about 40 to over 60 percent off by shopping here. Merchandise includes totes, hobos, cross body bags, satchels, ad more. You can shop at one of the 191 Burke's Outlet locations, or shop online. The website offers $5 flat rate shipping.
Browse Outlet Malls
When you want the choice to shop at a wide range of stores, browsing the designer bag selections from various brands at a great outlet mall can be a prime choice.
Woodbury Common
Located just outside Manhattan, Woodbury Common offers 220 stores full of discounted merchandise, ranging between 25 and 65 percent off the recommended retail price. You can also purchase a VIP coupon book for about $10 which will provide you with even further discounts. The shopping outlet is home to many brands, including Tommy Hilfiger, Banana Republic, Chloe, Burberry, and Dior. A convenient shuttle bus is in operation which will drop you to and from the outlet, saving you expensive car parking fees.
Fashion Outlets
Fashion Outlets are located in Rosemont, IL (greater Chicago area); they also have branches in Niagara Falls, Sante Fe, and Philadelphia. They house 130 outlet stores for a number of designer brands including Coach, Michael Kors, Gucci, and ALDO - offering savings of up to 75 percent off the recommended retail price. The flagship location in Rosemont has a two-floor indoor shopping outlet that offers numerous dining options and free parking - making it a fun and affordable day out.
Tanger Outlets
The vast majority of merchandise available at Tanger Outlets is first quality and in-season. There are hundreds of brands to be found here, including Banana Republic, Coach, DKNY, Guess, and Kate Spade to name just a few. You can find a full list of brands and locations on the Tanger website. Tanger also offer numerous deals and coupons on their website, which can be used to further discount purchases.
Premium Outlets
Premium Outlets are located across the country - visit an outlet center near you by visiting the Premium Outlets Locator page. The outdoor shopping villages are home to over 160 outlet designer and name brand outlet stores, although not all brand stores are available in all locations. Shop designer brands including the Armani Outlet, Bottega Veneta, Burberry, DVF, Nike, Prada, Saks Fifth Avenue OFF 5TH, Tory Burch, Dooney & Bourke, and Tommy Hilfiger. You will find savings of between 25-65 percent on all handbags. You will find a mix of previous season stock, as well as outlet-designed stock here amongst the brand names.
Online
In addition to the brick and mortar outlet stores, you can also shop the same discounted designer goods from the convenience of your own home.
Nordstrom Rack
This online outlet stocks a wide range of affordable designer names at further discounted prices. Longchamp, Madden Girl, Kooba, Nine West, and French Connection are just a few of the designer brands available to shop online at Nordstrom Rack. Whether you're looking for a cross body, clutch, satchel, or shoulder bag - Nordstrom Rack has you covered.
My Bag Outlet
The My Bag Outlet stocks designer handbags at up to 60 percent off the retail price. Brands include Ted Baker, The Satchel Company, Lulu Guinness, Hunter, and many more. They offer free worldwide delivery, too.
The Outnet
The Outnet offers designer bags from the likes of Anya Hindmarch, Phillip Lim, Alexander Wang, Jill Sander and Valentino at up to 60% off the usual price. The website was listed on Style Caster as one of the best ten places to buy handbags for less. You can conveniently filter by style, colour, price range, and designer, in order to be shown handbags to suit your personal style and needs.
Handbag Outlet Shopping Tips
While you know you'll save money on a bag from an outlet store, there are a few additional ways to save even more and ensure you get the purse you want.
Ask the salesperson if the bags are manufactured specifically for the outlet or not. Most will be direct with you so you know what you are really purchasing.
Yahoo Daily Finance suggests taking a photo of the bag you are interested in at the regular retail or department store. If they carry a bag that looks like it at the outlet, compare it to the photo to see if there are any differences. If there are differences in the details, it may be an item made specifically for the outlet.
Sign up for newsletters or email alerts from your favorite purse brands' outlets; you'll know when the sales are and be able to be the first to know so you can go when the selection is greatest. You may also get additional coupons.
Find a Discounted Handbag Today
There are so many outlet stores dotted all around the US, as well as the rest of the world, and online - there's no excuse to pay full price for a handbag ever again. Before you go, be sure to do your research first. As mentioned above, certain brands manufacture goods more cheaply than their main store offerings, with the purpose of being sold at a lower price in their discount stores. Start planning your trip to a store near you, or check out the incredible offerings online.