Messenger bags are designed in a variety of styles that focus on a student's needs. You can find bags ranging from ones featuring cute, novelty designs for younger kids to those done in designer styles for teens and college-aged students. Messenger bags are a popular choice not only because of their style but versatility. Another appealing feature of a messenger bag is that the design makes it easy to access your items. Unlike a backpack, a messenger bag is held on your side allowing you to reach in for a ringing phone or to find a pen. With plenty of pockets and a flap to secure your items, these bags are as practical as they are stylish.
Bag Styles for Teens and College Students
Most teens and college students are looking for a messenger bag that offers functionality along with style. Bags that can hold a laptop as well as bottles of water and a change of clothes are ideal for this age group.
Amy Michelle
Amy Michelle features a collection of stylish bags appropriate for school and work. The messenger style is called the Seattle and is priced around $70. The bags are done in fun prints such as camouflage and floral designs, as well as solid colors. Amy Michelle messenger bags feature details such as a single adjustable webbing shoulder strap, eight roomy pockets, a back slip pocket, two water bottle pockets and a magnetic flap closure. The bags also have an antimicrobial lining that is easy to keep clean. There is an option to have the bags monogrammed for an additional fee.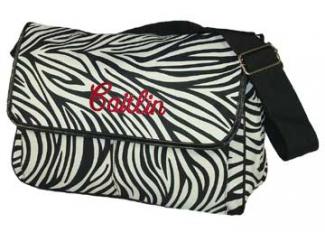 Simply Bags
Simply Bags offers school messenger bags in fun animal prints that are sure to stand out in a crowd. Bags are priced under $35 and can be monogrammed for an additional fee. Messenger bags from Simply Bags are not only practical but are very stylish in their design. Each bag is lightweight and features two outside pockets under the front flap and a large opening to access the interior. The bag can be worn cross-body or over the shoulder with the adjustable web fabric strap.
Messenger Bags for Younger Students
When you're shopping for the younger crowd, you want to make sure the bag is sized appropriately for the student's body and won't be cumbersome to carry. Choose a smaller, lightweight bag that is roomy enough to hold their school essentials. Consider the following brands when shopping for tweens or elementary-aged students:
Four Peas
Four Peas offers messenger bags for elementary-aged kids that have designs that appeal to the girly-girl or the skater boy. Bags from Four Peas are priced around $35 and feature cute designs such as a skateboarder, peace sign, stripes and a guitar. Each bag is done with a magnetic closure and has roomy exterior pockets for easy access to supplies.
Lands' End
Lands' End features lightweight messenger bags that are ideal for kids and tweens. You can find a variety of styles from solid colors to pink dots to blue plaid. These bags range in price from under $20 to $40. All bags are constructed from nylon and have a roomy interior as well as a zippered exterior pocket and an adjustable, padded shoulder strap for added comfort. Many styles include a reflective trim that helps keep kids visible and a water-repellent finish for easy cleaning.
Lillian Vernon
Lillian Vernon offers a wide variety of messenger bags for younger kids. Bags are priced under $30 and feature roomy interiors and adjustable straps. Some bags have water bottle pockets, cell phone pockets and an outer zipper flap pocket. At Lillian Vernon, you can find bags in fun prints such as blue camouflage, sorbet dots, zig-zag stripes and even a bag featuring a black cat. You can also find bags done in solid colors featuring a reflective stripe for added safety. All bags can be personalized for no additional charge.
Ideal For All Ages
A smart alternative to the traditional backpack, messenger bags have become a favorite among students of all ages. Due to modern designs and practical construction, messenger bags provide style and carrying comfort in a way that many other bags cannot. With a variety of designs and colors, there is sure to be a messenger bag to fit any student's needs and style. Since messenger bags come in a wide variety of sizes, styles and colors, they appeal to people of all ages. Students in elementary school to college will enjoy carrying this style of bag that is not only trendy but practical.