If you're looking for a unique and interesting wallet that will stand out from the crowd, look no further than the distinctive offerings from db clay, such as the Puzzle Wallets. Each of db clay's wallets tells a story. For example, the Original Dammasch was inspired by an abandoned mental hospital. This tour of the old mental hospital motivated many of the concepts and designs found throughout the company today. The owner has a great sense of humor about it and laughs that maybe he belongs in there too. However, the genius behind db clay continues and can hardly be disputed.
LoveToKnow had the opportunity to interview Garrett Stenson, CEO of the company, and learn all about db clay, from the first days to what's planned for the future.
About Garrett Stenson
Self-professed Guacamole Worshiper
Garrett Stenson was born in 1979 in Lander, Wyoming. He worked his way through a marketing degree from Portland University by hand-making and selling around 30,000 duct tape wallets. Today, db clay, produces and sells thousands of wallets every year. The company even offers kits so you can make your own duct tape wallets.
The Beginning of db clay
LTK: I understand that you paid your way through college by hand-making duct tape wallets and selling them. Was this when you first caught the entrepreneurial bug or did you have other businesses before then?
Garrett Stenson (GS): Growing up in a family of ten kids, yes 10 (including Tyler, my brother), definitely forced me to be entrepreneurial at a very young age. If I wanted something, I had to pay for it. My parents were great providers, but with 10 kids the budget was tight. To make money I bought and sold overpriced candy in elementary school, I sold beaded necklaces in sixth grade and I donated plasma my first year of college; I've mowed lawns, logged in the forested hills of Wyoming, and I've waited tables, etc. Though, it's never really been about the business or the money or the Duct Tape. I am just an obsessive compulsive, crazy bastard, and I have to be working on something at all times!
LTK: How fast did your wallet business grow and how many hours a week would you say you spent making wallets?
GS: It grew pretty quickly. During peak seasons (or stocking up for a big show) I would spend well over 80 hours a week making wallets. In the last three years, since transitioning the business over to full scale (and outsourced) manufacturing, we have seen revenues increase exponentially. In doing so, I still work about 80 hours a week, but my days are now much more dynamic. Some weeks I work 40, some I work 100. db clay is embedded in my DNA.
About Puzzle Wallets
LTK: I love your puzzle wallets. How many different varieties do you offer and are they all still hand painted?
GS: Puzzle is 100 percent hand printed in Portland - we have a printing/production facility on site. Right now Puzzle Batch #2 offers 500 one of a kind designs. We are working on Batch #3 for late summer…500 new one of a kinds!
LTK: Where did you come up with the idea for pocket art wallets?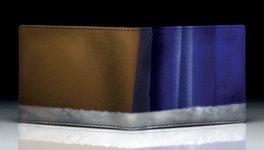 GS: I have always been into arts and crafts. The wallet is just another thing that I made. In the last 10 years, the wallet has evolved as I have evolved. Wallets are an everyday item that longs for attention…I want to give them the attention they seek.
LTK: Which wallet do you carry yourself -- and is it your favorite?
GS: I carry "I made it…" It has always been a favorite of mine. This photo of the wallet was taken by my buddy in NY Graeme Mitchell. I also like Feathers, Adult Chores and Grassy.
LTK: Are you working on any new designs we can look forward to soon?
GS: Certainly. I am mapping out Version 3.2 as well our first women's collection for holiday 2008. I am really excited for the women's launch.
Eco Friendly and Do It Yourself
LTK: Tell us about your Version 3.1 wallets and your eco friendly system.
GS: Our Version 3.1 collection offers eighteen life experience based designs to choose from. This new line celebrates our tenth anniversary- each wallet in this collection tells a story from our decade in the wallet business.
We are not a green company. However, our wallets are made from an eco friendly textile we call Tope. We spent about a year and a half custom engineering our own textile. It is PVC free and it is printed with non toxic inks. Very durable and water resistant.
LTK: So your company has the special type of duct tape manufactured for the wallets… What other special and high quality materials do you use in your products?
GS: Custom engineered Tope, satin nylon, water based acrylic paints, Patent Pending Gaffers Tape canvas, blood, sweat, etc.
LTK: You offer a do-it-yourself duct tape wallet kit. Obviously this was inspired from where you started with wallets in college. Can you tell us one of the advantages to using these kits?
GS: It will be the best 45 minutes you'll ever spend. Okay, maybe that was a little dramatic…I would say however, pick two of them up and make one with a friend. You will laugh and cry and never forget the time spent together. Every time you pull it out, you will smile and be proud because you made it.
LTK: Any plans to expand into other products or will you continue exclusively with wallets?
GS: We have lots in the works. Right now we are working on more accessories (including men and women and both) and we are also building software. We are also working on a high end cape line. ---
Whichever direction db clay heads, one thing is certain, the materials and products will be innovative, fresh and something everyone will want to carry. You can purchase Puzzle Wallets and other db clay products at dbclay.com.