Various Purse Shapes and Styles
There are many different purse shapes and styles, so it can be difficult to know which one is right for you.
To begin, it's helpful to match your purse to the season. For example, during the warmer months, it may be best to choose a style like that of a tote.
These bags are roomy enough to hold everything from wallets to sunglasses to a great summer read.
The Structured Look
Structured purses can be large or small; the key element that separates this style from others is the shape.
Typically, this style has very clean lines and almost a box-like shape.
Small Structured Purses
In this example, a small structured purse proves that size doesn't always indicate a greater fashion impact.
Moreover, fabric is increasingly important to the overall quality of the look.
Slouchy Bags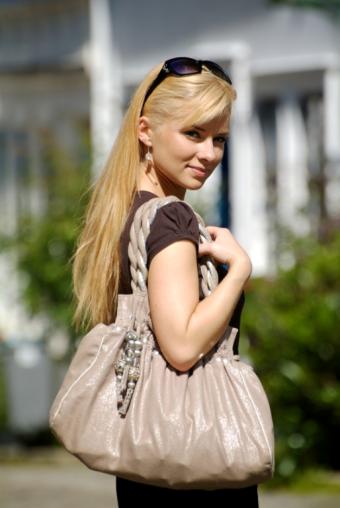 Your purse can also be slouchy, with limited structure, but that doesn't have to mean a boring style.
In fact, elements like rope-like handles and intricate details can make this look quite compelling.
The Hobo
A hobo handbag is characterized by its crescent-like shape and slouchy design.
These purses typically serve as high-end fashion accessories and because of this, they tend to come in bold hues and have intricate, eye-catching details.
Clutch Purses
Clutch purses function exactly as its name implies; the purse is small enough to be clutched, or held in the hand.
The various styles that this purse comes in are virtually limitless.
Large Purses
Large purses usually have names like totes, shoppers, or carry-alls, and can come in many styles. Both structured fabrics like straw and more supple materials like leather and cloth are popular for this type of bag.
Satchel Purses
Satchel purses are smaller than shoulder bags and come in a variety of colors.
This look is usually too small to be worn on the shoulder, but can be carried quite comfortably.
Large Envelope Clutch
If you are still having difficulty finding a purse style that suits you best, consider a large envelope clutch.
This purse offers all the benefits of a traditional clutch, but provides a bit more room so that you can tote more objects.
For even more fashionable purse options, visit the Favorite Celebrity Handbags slideshow.