Men's purses are being utilized more than ever before. Far from being feminine, there are dozens of styles of men's bags available today for males to easily carry their items, ranging from rugged weekend bags to sleek professional options.
Why Men Carry Purses
In most of Europe, men carry purses regularly, and American men are increasingly following this trend. It is no surprise that men like to have a place to carry their necessities and avoid the ugly, full back pocket or clanking-change phenomenon. Many of the major handbag lines now have specific collections that cater to men's bag needs.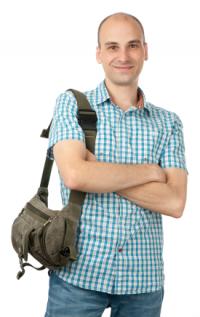 Finding a Man Bag
So how can men appropriately stash their stuff and still look like a man? It is all in the design. The "man bag", as many refer to it, does not look like a women's purse, but serves a similar purpose. Men need to be on the lookout for bags with the following characteristics:
Structured styles rather than loose, slouchy bags
Durable materials, like nylon, canvas, or leather
Simple bags without busy patterns or prints
Waist bands or long cross-body (an exception is men's business tote bags which may have handheld handles)
Where to Buy
Department stores, leather goods and luggage retailers, and many online stores carry sell purses for men. Check the following retailers for a good start on finding the perfect man's bag.
Baggallini
An international bag company that has been growing in popularity since its creation in 1995, Baggallini.com offers a nice assortment of classic looking bags which are mostly unisex.
Eagle Creek
An outdoor brand with a decent selection of rustic looking gear, Eagle Creek.com bags are naturally manly.
A great men's purse option is their Kensley bag. Although you find it in the women's bag section, there is nothing feminine about this bag. A smaller shoulder-style bag, it is available in blue, black or red. It is a basic bag with a few organizer pockets and it has a unique design providing a non-purselike appearance.
Skooba Design
Just for those techies who want a carrying case for their stuff, Skooba Design has found their niche.
A great bag from the company is the Skooba satchel. It comes in a standard and large sizes and although it is a laptop bag, has plenty of pockets and is prganized to allow you to stow yout other belongings neatly and easily.
Piel Leather
If you want a rugged, leather bag that will stand up to anything, while still looking stylish, check out Piel Leather. Their bags are strong and durable, and there are numerous unisex or men's styles available.
One option to consider is their Multi-Pocket Leather Back. This small bag comes in several colors and is guranteed to keep you organized on the go.
Cole Haan
Cole Haan makes several quality men's bags including duffels and messenger bags, all in rich leather. Check out their Wayland Reporter Bag for a small shoulder bag that is also extremely masculine.
Fossil
Fossil is known for combining modern elements with a relaxed vintage vibe. The result is a line of man's bags that are sleek and easily wearable. The brand's City bags are an especially great pick for today's man - smartly sized, with a comfortable shoulder strap, and made of rich leather, this versatile bag has several pockets to help you stay organized on the go.
Saddleback Leather Co.
With a tag line of, "They'll Fight Over it When You're Dead," and photos of these rugged bags in the jaws of crocodiles, Saddleback Leather's bags are made for a man's rugged sensibilities. Their bags come in numerous sizes, shapes and leather finishes, each guranteed to stand up to anything you can throw at it.
Their satchels are available in three sizes, each with a handle and shoulder strap for ease of use and versatility.
Stylish Organization
Whether it's a lightweight nylon shoulder pouch or an executive leather tote, man's handbags are an accessory more men are using than ever before. Browse to find the right one and you'll be both organized and stylish.