Interview with Handbag Pattern Designer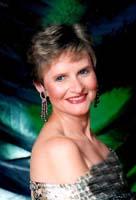 LoveToKnow was able to catch up with Henrietta Timmons and complete an interview with this handbag pattern designer. Not only are her purse patterns fresh and up to date in style, but they are reasonably priced and easy to complete.
Henrietta was named after a great aunt born in 1863 and also named after her father Henry. Her business was initially born of an eBay endeavor, where she sold a few handcrafted handbags through an auction. That small taste of success spurred her on to create Henrietta's Handbags.
Meet Henrietta Timmons: Handbag Pattern Designer
LTK: Tell us a little about yourself. How did your interest in purses begin?
Henrietta Timmons (HT): I first developed a love of handbags when I used to sit in the bottom of my mother's closet around the age of seven and go through all her handbags. I'd find little treasures that she had left inside like pennies, tubes of lipstick, compacts, etc. My interest continued to grow with Mom making me purses to match all my outfits as I got older.
Henrietta's Handbags: Handbag Patterns and Purses
LTK: Henrietta's Handbags and Purse Patterns is an interesting site, because you mesh vintage styles with more modern looks. Can you tell us a little more about what your online store offers to customers?
HT: We try to offer a comprehensive selection of different bag styles ranging from funky to vintage designs with lots of beading and lace. We currently carry about 100 different purses and almost 600 purse patterns where crafters can choose to make their own handbags with lots of different options. Our patterns range from quilted handbags to the unusual, including a purse shaped like a chicken! We ship all over the world and try to make every customer feel extra special and offer a money back guarantee on all our bags and patterns.
LTK: Do you have a brick and mortar store or is all business done online?
HT: All our business is currently online but, at some point in time, I would love to have a brick and mortar so I can interact with customers directly.
LTK: How many handbag patterns do you keep in inventory?
HT: We are quickly approaching 600 purse patterns in stock.
Pressed Flower Special Occasion Purses
LTK: You sell pressed flower purses that are absolutely gorgeous! Can you tell us a little more about these and why they are so unique and interesting?
HT: I saw these purses and just fell in love! I was unable to purchase them for the site, so I made an arrangement with the owner to carry these beautiful bags. They are made with genuine pressed flowers such as hibiscus, orchids, and roses and the flowers are hand pressed. The linings snap in and out so that they can be washed and even mixed and matched with other bags. My personal favorite is the Berlin Bag.
LTK: These would be perfect for a prom or other special event, they are so pretty. What is the main reason your customers buy the pressed flower purses?
HT: I think the customers that buy these bags are nature lovers just like myself and are really pleased with the idea that the flowers are real!
Favorite Handbag Patterns and Designs
LTK: What is your favorite handbag and favorite pattern?
HT: That's a very tough question - I love so many of them. I have to say that I am very fond of any handbag that is designed by Laurel Burch. She was such a great artist and her mythical animal designs in tapestry really speak to me. As far as purse patterns go, I really like the Kenyan Tote by Sue Spargo, StudioKat's Presto Purse Pattern, and Dominique's Purse-O-Nality by Purse-O-Nalities of Palm Harbor. I also enjoy anything that Lazy Girl Designs and Indygo Junction puts out. Very popular right now are the Australian pattern designers - Melly & Me, Rosalie Quinlan, and Monica Poole.
LTK: Do you make your own purses to carry or for gifts or do you prefer to buy ready made?
HT: I actually prefer to make my own handbags - that way I have more freedom to add the features that I need such as lots of organizational pockets and straps that fit my five foot tall frame more naturally. Of course, I also love the all time classics such as Louis Vuitton - quality is timeless.
LTK: What handbag are you carrying right now? Can you describe it for us?
HT: What I am carrying right now (I change bags every few days) is one I made myself that uses a patchwork design with Olivia The Pig fabric. It is in shades of black, red, and white with Olivia involved in different activities such as backpacking, playing with the cat, and jumping rope. There are double straps, a top zipper, and the lining is in matching black and white polka dot. As you can probably tell, a sense of fun is very important to me and I like my handbags to reflect that attribute!
Henrietta's Handbags Free Newsletter and Handbag Pattern Tips
LTK: Your site offers some free craft ideas for handbags, such as a purse made from potholders. What is your favorite craft purse idea? Would you be willing to share some tips with our readers about how to make your favorite craft purse?
HT: I believe that my favorite super easy to make pattern right now is the little wristlet that is so popular! It makes a great (and fast!) gift and my daughter says that it is perfect to take dancing because you can keep your money, keys, and drivers license with you even on the dance floor!
My favorite crafting tip concerns zippers. A lot of the time, crafters freeze up when they see that a bag has instructions for a zipper but this fear is misplaced. To alter a pattern for a tote bag and add an extra organizational feature, just make the front piece longer by 1 ½" and cut this piece where you would like to place a zipper. Make sure the zipper is long enough to go completely across the width of the bag and just fold under both sides of the 2 pieces and place your zipper face up with the zipper band on each side. If you want this large zippered front pocket lined, just sew an additional piece the same size as the bottom part and sew it with the wrong sides of the fabric facing each other. You now have a large zippered pocket on the outside of your tote that is great for grocery lists, pens, keys, etc.
LTK: Your free newsletter sometimes offers pattern ideas. What else can readers expect to find in your newsletter?
HT: Our newsletters come out once a month and feature new products that have been added since our last edition, as well as sewing tips, fabulous links I have found to other handbag sites that I feel would be useful to my customers, and handbag facts and trivia.
---
A special thanks to Henrietta Timmons for such an interesting interview with a handbag pattern designer. You can visit Henrietta's Handbags at henriettashandbags.com.