Summer means it's time for a host of new wardrobe and beach accessories, and a giant beach bag is a smart choice for those who need to haul many items to the beach or pool. There are numerous options for finding a bag that will be both durable and fun to carry.
Shopping for Giant Beach Bag Styles
Check out some of the most popular types of huge bags for the beach along with where to buy them.
Mesh Beach Bags
Consider a mesh beach bag to carry all your essentials. You can stash towels, toys, change of clothes and more into a giant mesh bag. Many fold away and can be stored in a pouch. A mesh design is ideal for the beach since you can just shake off and out all of the sand and keep it at the beach. Mesh also makes the bag lightweight and easy to carry. Some styles to consider are:
Epic Sports carries the AquaJogger Large Mesh Bag. It has a drawstring toggle closure, shoulder strap and comes in a bright aqua blue. It is quick drying and folds up when not in use. This bag is also affordable.
The Dolphin Bags from Saltwater Canvas are popular mesh styles that are large enough to hold your beach towels and sunscreen, and there's even room a few beach toys and your summer reading. These bags are available in fun, bright colors that you can custom pick when you order.
Backpack Beach Bags
Another option if you have a lot of items to carry is to purchase a large backpack. While this won't look like your traditional beach bag, you can often find some with sailing and nautical themes or ones done in a bright color. There are many advantages to carrying a backpack instead of the tote style of a traditional beach bag, such as having both hands free and making it easier to carry a lot of weight without straining your back.
Bed, Bath & Beyond carries the Zuma Cooler Backpack. This bag is done with two sections: an insulated compartment and a mesh section. It can keep food items hot or cold and store all your beach necessities such as towels, clothing and games. It also has a large zipper pocket to keep items safe and secure.
Straw Beach Bags
Straw bags are great for the summer since they are light and stylish to carry. This style of bag works well for the beach and can be found in a variety of looks. Some are plain and simple, while others boast more complex designs that promise to make life easier for heavy packers, mothers of little ones and anyone who needs the extra space. Straw also bags come in a range of prices. Styles to consider include:
For a more affordable straw bag, check out the INC Tropical Straw Totedone in natural and rainbow-colored straw. This bag found at Macy's, is reasonably priced for a durable straw bag, and has two top handles.
Huge Totes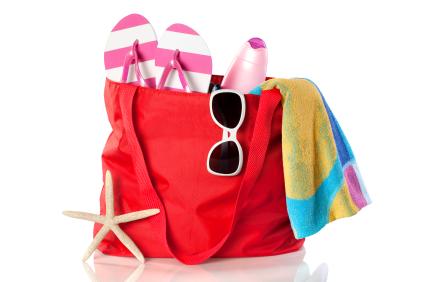 There are many huge tote bags on the market that aren't necessarily meant to be used as beach bags, but can still serve that purpose. Tote style diaper bags are popular to carry to the beach. They make an excellent beach tote, because of the durability and many pockets for various beach items like suntan lotion.
The Bang&Carsen extra large beach tote is another huge beach tote sold on Amazon. This bag is durable and waterproof. It has long handles that can be carried on the shoulder and is great for the beach, pool and outdoor events. It's available with either dark navy or bright blue stripes.
Perfect for Summer
Giant bags for the beach are the perfect summer accessory and easily found in just about any retail store once there is even a hint of warm weather. The selection is wide, so knowing what you want before you shop can save time, money and disappointment.