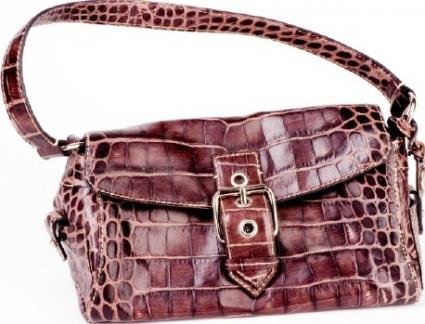 A crocodile skin purse is a timeless fashion accessory. There are many beautiful styles and colors of elegant new and vintage crocodile purses to choose from in today's marketplace. If you decide to add a luxurious, soft crocodile purse to your collection, it will quickly become one that you will want to use and enjoy for many years to come.
New Crocodile Purses Custom Made for You
A crocodile purse can be custom designed to your specifications and requirements at online site such as Gleni. The customer has the option of choosing the style, color and design of the crocodile skin purse of their dreams.
Exquisite Hand-Crafted Crocodile Purses From Gleni
Italian craftsmen in Florence, Italy, meticulously hand tool your luxurious crocodile purse using techniques that have been handed down through the years. Using only the finest crocodile skins from the crocodile's cheeks and belly, each purse becomes a wearable piece of art. Each Gleni bag is only made from skins that have been obtained from legal sources. The company also follows all of the rules and regulations regarding marketing of goods made from crocodile skins.
Gleni crocodile leather purses are available in a vast array of colors including the original brown, beige and black. With the dyeing process now available and made safe for delicate crocodile leather, purses can be created in 17 stunning colors ranging from the deepest tones to the palest shades. The color choices allow each customer to have their crocodile purse in the color they most prefer.
Crocodile leather purses from Gleni can also be finished with edges that are made of real snake skins giving the purse an original and unique character to further personalize it for the customer. The average price for a Gleni crocodile bag is $3,400.
Crocodile Purses Made From Your Sketch at Solowest
Solowest offers many beautifully designed purses made of crocodile skins for sale in a rainbow of color choices. Using only authentic and legally obtained skins, the craftsmen at Solowest will create a completely customized purse from a sketch that the customer has drawn.
Once Solowest receives a sketch that is as detailed as possible, a designer generates a computerized rendition of the design. The design is then sent back to the customer and any final changes are discussed and made. The designer then creates another computerized rendition of the modified purse. Once the customer's approval has been obtained from the final rendition, it is sent to the leather craftsmen. In approximately 25 days, the hand stitched custom-made crocodile purse is ready to be delivered to the customer.
More Places to Find New and Custom Made Purses Made of Crocodile Skin
Vintage Crocodile Skin Purses
Owning a crocodile skin vintage purse is one of the ultimate dreams of many people that love vintage bags. A crocodile purse form years past is truly a one of a kind fashion accessory that is a classic, timeless treasure. You can find vintage crocodile purses at online auction sites such as Ebay, and sites that specialize in vintage handbags. A few great sites include:
How to Care for a Vintage Crocodile Purse
To make a vintage crocodile purse look great, take a soft cloth that is slightly damp and gently wipe the purse to remove any dust and dirt. Use tissue paper to stuff the purse back to its original smooth shape. To make the purse shiny again, buff it gently with Pledge furniture polish using a soft cloth.
Conclusion
Whether the crocodile skin purse you choose is vintage or new, it is certain to bring you years of service and enjoyment,