Large Fashion Purse Options
More Details"
Big fashion purses are a fun and functional way to spice up your look. Larger than an average everyday handbag, big bags are a great solution for when you need to haul more than a smaller bag can hold. Plus, the bold look of a big purse packs a style punch that few other accessories can beat!
A satchel bag is a great choice for a great-looking big purse. This Nylon Kiko Satchel Bag from Hadaki is a particularly good choice. At 13" by 15" wide, this bag provides great storage capacity. The nylon fabric is durable and comes in fashionable colors like teal, red and a two-tones of cobalt/aqua and dark teal/light teal. It has a top handle and long shoulder strap. The bag is available from Wayfair for $70 or less, depending on the color selected.
Click the "More Details" or "Buy Now" button on any slide for purchase information.
Large Faux Leather Tote
Buy Now"
If you are a fan of tote-style handbags, this large faux leather Blanchett from Vitalio Vera is a great option - especially if you like bags with designer initial emblems and gold-tone hardware. It has a slouchy cut, yet still looks elegant.
This 13'' by 14.5'' bag is very roomy and has a zip-top closure to keep all of your items held securely inside. It also has an exterior pocket, so you can keep frequently used items within easy reach. It has short shoulder straps and comes in red, taupe and black. The bag is available for around $50 from Amazon.
Briefcase Style Tote
Buy Now"
If you like the idea of carrying a big purse with the look of a briefcase, this faux leather tote is a great option to consider. Special touches such as the gold tone padlock embellishment and coordinating hardware make this a great choice for fashionistas who like to turn heads. Colors range from trendy hot pink and mint green to conservative black and tan.
Sized at 15" by 10.5", this roomy bag will hold typical purse essentials plus your tablet, a padfolio and other office or school necessities. It has built-in handles so you can carry the bag or hang it over your shoulder. It also comes with a detachable 53" strap that can be adjusted for the perfect fit. Available from Amazon for just under $40.
Big Fringe Bag
Buy Now"
A big fringe bag offers a hint of retro appeal with a modern-glam vibe. The long and sassy fringe on this big faux leather fashion purse is a great way to make a fashion statement.
This fun black fringe bag is 16" by 13" wide, so there is plenty of room to carry all your necessities. It features six-inch handles and a removable long shoulder strap that can be adjusted to the perfect length. Purchase for under $40 from Amazon.
Tote With Snakeskin Embossed Flower
More Details"
If you like the idea of a large embellished purse, but fringe isn't your thing, consider the Cliantha Large Tote Bag from Parinda. This dark brown tote bag is quite large (20" by 11") so there is plenty of space to hold anything you might need to carry on a day-to-day basis.
The style is somewhat conservative, with a single shoulder strap and silver-tone hardware, but the large snakeskin embossed flower on the front provides an unexpected touch of personality. It has an interior cell phone pocket and zips closed at the top. It is available for $40 from Wayfair.
Healthy Back Sling-Style Bag
More Details"
If you need a large purse, that means you probably carry a lot of stuff - which can actually be bad for your back. This large sling style Classic Microfiber Healthy Back Bag® from AmeriBag looks great while taking some of the burden off your back by transitioning the load to behind your shoulder rather than the front or side.
Available in taupe or back, this 21" by 13" purse feels soft to the touch and holds a lot of gear. It is priced around $70 on Wayfair.
Extra-Large Hobo Bag
Buy Now"
Hobo bags are a great style when you're looking for a larger purse. This Extra-Large ''Woven Ombre'' Hobo bag by Laurel and Sunset is a terrific option. The 11" by 16" bag zips closed at the top. The main compartment is split and has three pockets and there is an additional pocket on the outside of the bag.
The braided handles and use of two shades of a similar color makes this bag really stand out, particularly the trendy grey and silver option shown here. Other options include silver with mauve, two shades of sage green or two shades of light blue. It is priced around $30 from Amazon.
Double Duty Tole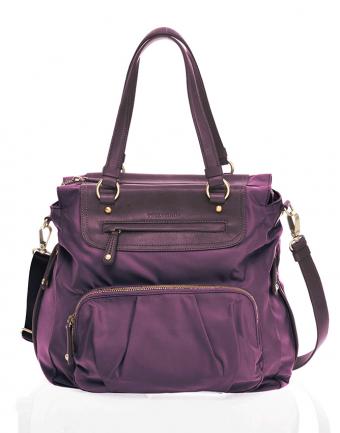 More Details"
This fashionable tote from TWELVElittle is designed specifically with the needs of busy, fashion-conscious moms in mind. It's a stylish, multi-functional tote that is actually designed to be a diaper bag, but is as stylish as any large fashion purse you could find. It can be used as a diaper bag, a purse, or a combination of both.
Measuring 14" by 13", this super-cute bag will hold all of your essentials, including any baby supplies that you need to carry. Its water-resistant nylon fabric is very practical. The bag has 9-inch straps and also comes with a detachable strap that can be adjusted to be up to 23". It comes in plum, beige and black, and can be ordered directly from the company for around $210.
Super-Sized Courage Satchel
More Details"
If you like an even larger fashion purse, this 17" by 12" satchel from TWELVElittle is ideal. The company sent me a sample of this bag to try and it immediately became my favorite large casual handbag. As a busy professional on-the-go, this bag takes me from client meetings and interviews to the gym and personal errands with style and ease.
This bag has built in 7.5 inch shoulder straps and it comes with a 24" removable strap that can easily be adjusted to a perfect crossbody length. The two zipper pouches on the front are ideal for a cell phone and eyeglass case, and the side pouch holds a full-size water bottle. It has a padded tech sleeve inside to hold your tablet, as well additional interior compartments for other essentials. This go-anywhere bag is available directly from the company for around $210.
Faux Fur Satchel Tote
More Details"
If you like the look of fur but don't want the real thing, this trendy Faux Fur Swirl Satchel Tote Bag by Sacs of Life is a fun handbag selection. It closely resembles real fur in a novelty black and white pattern, though it's constructed from environmentally friendly materials.
This fashion-forward bag is 17" by 17", though it tapers from a relatively small top opening to a wider bottom for a stylish shape. The bag has pockets on each end so you can securely keep your phone, wallet or other frequently used items easily within access. It costs under $90 from Wayfair. A matching makeup bag and shopping tote are included.
Black and Grey Snake Print Faux Leather Tote
Buy Now"
If you like the idea of a black and white print handbag but would rather not opt for faux fur, this faux leather snake print purse may meet your needs. Even though this bag is smaller than the faux fur one, at 15.8" by 12.7", it's still a good size for people who like to carry a larger bag.
Available for around $20 from Amazon, this bag is certainly an affordable option. It's also practical, as the top zips shut and the bag has a pocket that zips, a cell phone pouch and an open pocket inside the main compartment. Special touches include silver tone hardware and side fringe toward the bottom.
Bucket Shopper Tote
Buy Now"
If you prefer a structured purse in a large size, a bucket tote is a great option. The ADELE Classic Large Bucket Shopper Tote is a classic-looking bag that is just as appropriate to carry when you are dressed in professional attire as for more casual occasions. It has two sturdy handles 10-inch handles that can be adjusted for your best fit.
This bucket tote is 15.5" by 13.5", so it can carry a wide variety of items, including business supplies like a tablet (inside a protective case) and padfolio. Even though the bag is large, it's easy to organize your items inside, as the inside has three zip-up pouches and two pockets and there is an additional zip-up pouch on the outside. Order from Amazon for around $30 in your choice of orange, teal or stone.
Many Large Purse Options
With so many styles, fabrics and design options, you're sure to find one - or several! - large fashion purses to add to your accessory wardrobe. These are just a few of the many available options. Check your favorite handbag stores and websites for more ideas and inspiration.