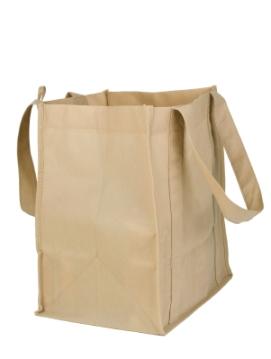 When it comes to choosing beach bags for guys, it is important to find something that is simple and free of girly embellishments. Even striped beach bags can look a bit feminine with stripes of pink and delicate handles. Few men want to be seen with such a frou-frou accessory.
Ideas for Beach Bags for Guys
If most beach bags are created with women in mind, what is a man to do? There are actually many different options for beach bags for guys.
Plain Totes: A simple, neutral tote in canvas or other durable fabric can make the perfect beach bag for a man. Totes are typically large enough to hold all the essentials you'll need for a day at the beach. A large tote is usually big enough to hold a beach towel, sunglasses, sunscreen, a book, flip flops and a few other items. Totes are available year round from just about any big box retailer. You can find them at stores like Walmart in a variety of colors. To make the tote look more masculine, stick with colors like tan, black, brown, gray or white.
Solid Colored Beach Bags: Sometime in the spring, well before swimsuit season, summer items hit the stores. You'll find many different beach bags offered at stores like Target, Pac Sun and Old Navy. Even though many beach bags do look quite feminine, there may be a few that are neutral in color and don't have a lot of embellishments. These can have a more masculine look. Again, color is very important to the overall look and whether a beach bag is acceptable for a guy to carry or something he'd prefer not to get within ten feet of.
Leather Bags: Leather bags have a definite masculine look. Although you likely won't want to spend money on top quality leather for a bag you plan the sling on the sand or dock on concrete next to a pool, a mid-quality leather is a good option for a beach bag that a man can carry proudly. The most important thing when adapting non-beach bags into beach bags for guys is to make sure the bag is roomy enough for all your seaside essentials you'll need for a day by the ocean (or pool!).
Backpacks: Backpacks work well as beach bags. Many bags made especially for the beach do not close on the top or only have a small metal clasp in the center. This can cause you to lose smaller items if the bag tips over. Backpacks zip completely closed, protecting small items and your valuables from falling out. As an added bonus, many backpacks also have pockets inside and on the front. These can be great for holding jewelry or cash during your day at the beach.
Sports/Gym Bags: Sports bags can work nicely for the beach, and most already have a sporty, rugged look that suits men well. Companies like Adidas have many reasonably priced options that will likely suit any budget. Gym bags are normally pretty large, so you may want to go with a smaller gym bag to lug back and forth to the beach. You'll also want to make sure the bag includes a shoulder strap, as short double handles might not be comfortable to carry long distances.
Where to Find Masculine Beach Bags
Probably the best place to find masculine beach bags are stores that carry casual men's clothing. Brick and mortar stores might include Sears, Aeropostale and Gap. There are also many bags available online for guys, at stores such as:
---
Remember that even more important than color and style is how well the bag works for the purpose you need it for. A good beach bag will carry all your items safely and hold up throughout the summer.